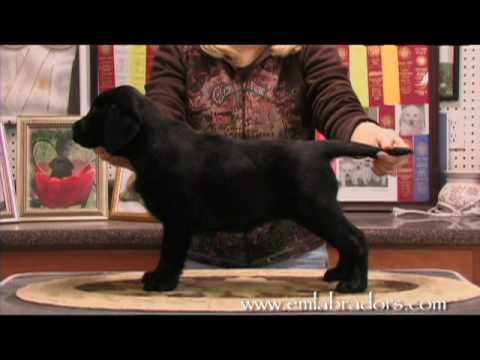 (if you have trouble viewing the video above, let this whole PAGE load first, then press "play" and it should play fine)
Endless Mt. Labradors
….in the heart of the Endless Mountains of Northeastern, PA
Columbia Cross Rds, PA
26yrs of experience, and still excelling…
…we hope you enjoy the new website, but trust you will always experience the same experience of "family", as is our tradition.
Home of:
Ch. Moonlit's Endless Mt. Romeo ("Romeo")
Ch. Erinhill's Guiness Stoubt ("Keg")
Ch. Endless Mt. Mecca (BOB) "Mecca"
Ch. Endless Mt.'s Shakin' Things Up ("Groove")
Ch. Endless Mt.'s Scotland Yard ("Scotch")
Ch. Endless Mt.'s Mack Truck, WD, Potomac 2009, BOV, Potomac 2013 ("Mackie")
"For the Discriminating Labrador Lover"
…who does NOT want a "hyper lab!!"
570-549-6800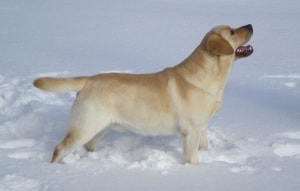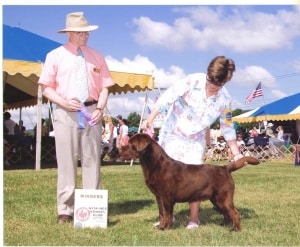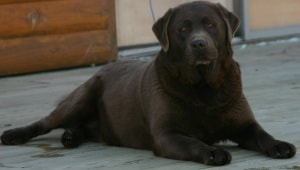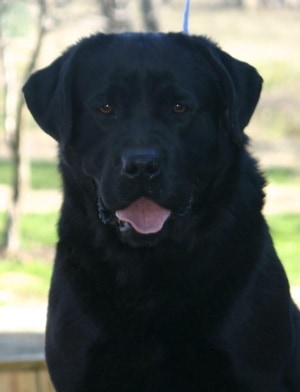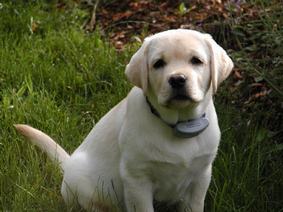 flawless, low-key temperament English Labradors

outstanding puppies that are family and house-raised

selectively bred with careful genetic screening
View a list of upcoming litters
Our letter of introduction…
Since 1988 , reputable breeder of AKC, English-build Labradors (stocky, blocky, large blocky heads) for family, show, and field. Labs are a wonderful breed, and we are proud to be a part of their history. We are determined to stay a small, private breeder so that each dog and each puppy can be socialized to be their best in the show ring, in the field, or as your fireside companion. We proudly present the consummate English Labrador.
Our breeding program strictly follows the guidelines of the National Labrador Retriever Club ethical standards of breeding. All of our labs have sweet, quiet, teachable temperaments which has endeared the breed to so many of us over the years. High Intellect is also a goal of our breeding. We are proud to have had many of our pups enter the search and rescue forces all over the eastern US, and to have been excellent drug detection dogs for many police officers, and have helped in large efforts, including 9/11.
Some have gone on to be great hunting dogs, and others as much loved "couch potatoes" , baby-sitters, and family companions. Our dogs are blessed with calm intelligence and a "you walk on water" devotion. Some field champions are in our lines. Championships include conformation, agility, obedience, some field (after all…Life is too short to hunt with an ugly dog!), and some companion dogs and therapy dogs. Although our dogs are gorgeous to look at…the most important ingredient in our breeding program is TEMPERAMENT! (we never keep anything that has anything less than a "perfect temperament"…so do not ask us "which litter has the best temperament"…if they did not have flawless temperament, we would NOT be breeding them.)
Some ask "do you only breed dogs for show??" The answer is no, we continue to try to produce the "all purpose" labrador, retaining its natural hunting instinct, and retrieving abilities. Its just that we ALSO concentrate on temperament, conformation (structure!), and sound genetic health clearances as well. This means our dogs could compete in "show" in either the conformation ring, field trials, agility, or obedience…any area you wish to enter them in…or they will perform for you at home in whatever capacity you need them too. They are well rounded.
We are best known in the conformation ring, due to the stunning looks of our labs, with lots of bone, substance, movement, blocky heads, short, stocky build, thick coat, and otter tail.
Our kennel is 100% AKC approved, and we are inspected every 2-4 years. We pass with flying colors.
The AKC is still the GOLD STANDARD of dog breed registries. If you run into any other (i.e. ACA, or similar), you can be 99% sure the breeder/kennel was inspected by the AKC, at some point in time, and was suspended (over the last 4 years the AKC has inspected every single breeder of AKC pups in the US, and continues to inspect everyone every 2-4 years!). Therefore, these offenders, run to these made up registries for those who are no longer allowed to participate in the AKC, either due to inhumane conditions, shoddy record keeping, or other inappropriate conditions for the breeding of dogs. We read about literally dozens, every month in the AKC Gazette, that get suspended each month. Hundreds of kennels a year.
Many people ask us what we do for a living.  I've even had ignorant people (who don't know us) say "they live in a mansion built on the sales of puppies."  Wow, that is the farthest thing from the truth. Since when did they look at my investment portfolio, CD's and savings account???
Years ago, when we began, we could only afford to care and house about 5-7 labs at a time.  By 2001, my husband and I began to do quite well in the real estate boom, and by 2005 we had saved enough money to buy 102 acres of land.  Over the next three years we spent time planning the layout of our house, specifically with our labs in mind, but we also needed business space for meetings for our real estate holding company. Then came the planning and layout of the kennel.  I'd visited so many kennels over the years, and I definitely knew what I did and did not like. We took money from our business ventures and set out to create a "lab utopia." Because we have so much land (102 acres) our dogs are never in runs, they are in large yards with adequate shade…and even swimming pools in the warm months!  They are only in runs when we have bad weather, then they come into their kennels inside (w/heated floors and beds).
We continue to have our real estate investment company, The Sterling Group, which also includes many other sales and marketing/business ventures. Most of the money that comes in from our kennel goes right back into the dogs, staff, dog show fees, food, and health clearances, and also to our local animal shelter.
Of course, with the high demand for our pups, we have continued to enjoy our kennel and love the extended family that comes from the clients I have grown to know and love over the years. But aside from our kennel, we are financially independent. We do the labs because we love them, and we still can (although our 40+,50+ year old bodies tell us we can't many times! LOL!)
Jonathan, my husband, spends 100% of his time running our many business entities and being the accountant and financial planner of our estate. I spend most of my time with the labs, overseeing our kennel staff, overseeing our dog's show schedules, making choices about breedings, and hand raising our pups in a home/family atmosphere. I also spend my time with some online marketing that I do on the side because I enjoy it, along with my writing. And of course, we both parent our now, 16 year old daughter, Olivia. We love the outdoors, walking, traveling, eating out, reading and going to movies.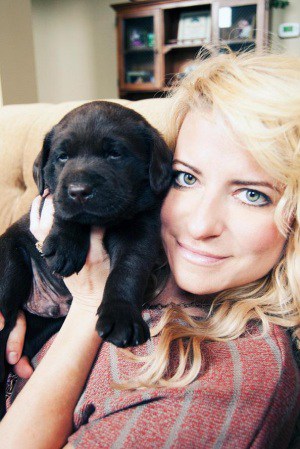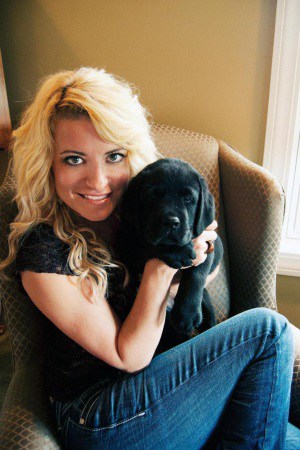 We are in our new location now!!!!
Endless Mt. Labradors at…
Aspen Hall
…a dream come true for us as we now are at our brand new location … a lush, wooded 102 acres. Aspen Hall is our new 8,000 sq. ft. Southern Colonial home, with an all new, state of the art , 3,000 sq ft. Kennel. We are surrounded by 900 acres of serene, scenic farmland in the heart of the Endless Mountains. You will arrive by driving though a pine plantation, that culminates in a 150 year old, tree-lined, historic drive leading up to the new estate home. ( you can't see the matching kennel out back, but it is actually under construction at this time as well!!!) As you can see, the "southern belle" in me won out in the end when choosing the home plans!—Donna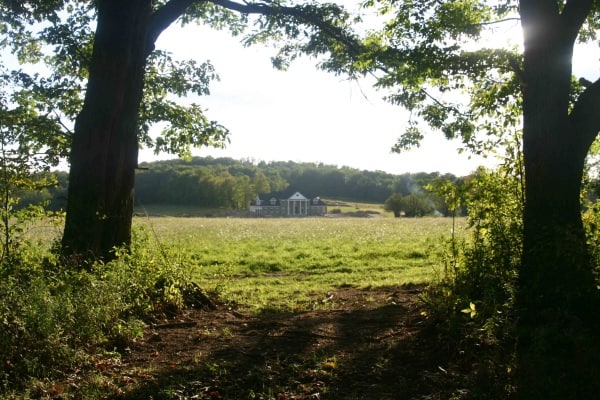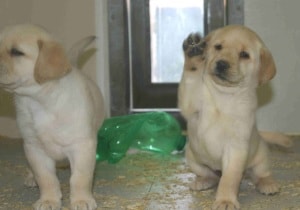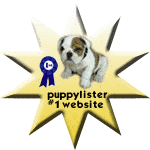 Come back and visit often!!!!
(as expressed by our little "waving puppy"! I've heard of "pointing labs"…but this one is amazing!!!LOL! "waving labs???")
********************************************************************
My brief Biography (by Donna)
Some people ask me "how did you get started doing this???" Well, as a child, I was a true dog lover, in the sense that I was never taught this by my parents, and they never let us get a dog because my sister had allergies. So I would walk around our neighborhood and visit everyone's pets, and offer to walk them for free (not even thinking anyone would ever pay you for such a thing!!!???). I was basically, everyones FREE pet sitter. My mom always said, "When you have your own place you can have as many dogs as you want!" So that is exactly what I did…I ensured that I will always and forever be surrounded by dogs. Labs to be specific. I have to admit, my husband, Jonathan, picked the breed, I loved every breed. We got our first lab in 1986, and in 1988 we had our first litter… And I've been a sucker ever since. But I thank Jonathan, to this day, for picking (what I know now is) the best breed of dog in the whole world. No other breed would I trust, implicitly, to sit by my baby's cradle, not be afraid of them ever being aggressive towards any adult or child (unless someone was to hurt my daughter), and who would be loyal every day, no matter if I am in a bad mood or good mood. They are the most forgiving, adaptable dogs in the whole world.
Welcome to the world of Labradors…beware, once bitten (never literally!)…you're SMITTEN!!!
"In the beginning, God created man, but seeing him so feeble, He gave him the dog." Alphonse Toussenel
"All Dogs Are Pets…..Labs Are Family"
Thanks for visiting, and please enjoy our website!!!
A percentage of dollars from every puppy sale goes to our local Humane Society and Animal Shelter!!! We want to "give back!" (for every "planned"/'wanted' puppy, there are plenty of homeless and unwanted pets…we want to contribute to this issue in our country).
ATTENTION:  NO advice or recommendations or blogs are intended to be professional advice or equivalent to that of a veterinarian.